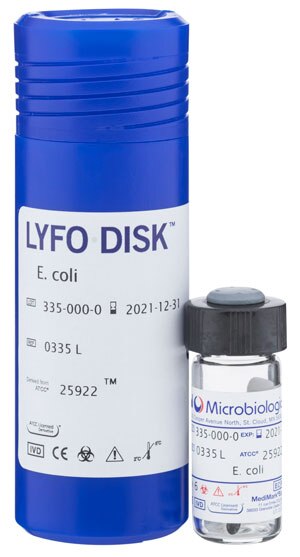 LYFO DISK™
It doesn't get much easier than this. Simply rehydrate LYFO DISK qualitative microorganism pellets with a diluent, such as phosphate buffer or saline, and you're ready to inoculate your culture media. LYFO DISK, packaged in a glass vial containing 6 pellets of a single strain, offers a ton of flexibility. It's an ideal solution for many quality control applications including presence/absence testing, microbial identification methods, antimicrobial susceptibility testing, media QC, water testing and more!
Applications and Test Methods
Highlights
Accredited reference material under ISO 17034 standard
Over 900 strains available
Easy to use – simply re-hydrate the pellet and inoculate
Strains are less than or equal to three passages from reference culture
Ready-to-use format saves time and money
Refrigerated storage is easy and economical
Online Certificate of Analysis provides detailed strain information
Traceability to reference cultures ensures authenticity
Technical Support experts available for guidance
Product warranty
Applications and Test Methods
Culture Purposes
Media and reagent QC
QC of Antimicrobial Susceptibility Test
QC of microbial identification including biochemical, PCR and rapid molecular methods
Water tests (e.g. enzyme substrates)
Disinfectant studies
Verifications and Validations
Proficiency tests
Daily QC
Package Details
Vial of 6 qualitative lyophilized microorganism pellets
Instructions for Use
*The ATCC Licensed Derivative Emblem, the ATCC Licensed Derivative word mark and the ATCC catalog marks are trademarks of ATCC. Microbiologics, Inc. is licensed to use these trademarks and to sell products derived from ATCC® cultures. Look for the ATCC Licensed Derivative © Emblem for products derived from ATCC© cultures.