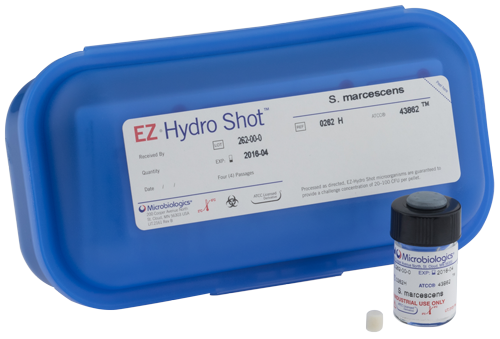 EZ-Hydro Shot™
We're sorry, our EZ-Hydro Shot™ QC microorganism products have been discontinued. In place of EZ-Hydro Shot, we are happy to provide KWIK-STIK™ or LYFO DISK™. These products will serve as excellent alternatives for your water microbiology QC testing needs.
Can't find what you're looking for?
Try refining your search or check out our Support Hub.
*The ATCC Licensed Derivative Emblem, the ATCC Licensed Derivative word mark and the ATCC catalog marks are trademarks of ATCC. Microbiologics, Inc. is licensed to use these trademarks and to sell products derived from ATCC® cultures. Look for the ATCC Licensed Derivative © Emblem for products derived from ATCC© cultures.